Welcome!
Our name "Mellowmaines" reflects the gentle, sweet nature of the Maine Coon and the mellow feeling one experiences when holding a cuddly, purring "gentle giant," not unlike the relaxed feeling one experiences while sipping a glass of wine. Therefore, most of our cats are named after wines.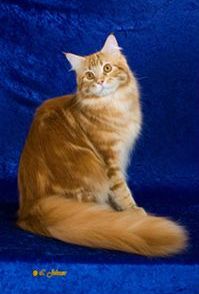 Our specialties are classic red and brown tabbies and brown patched tabby females, but we occasionally breed cremes and the aforementioned colors with white.
Mellowmaines cattery is owned by Brenda Flahault who has been showing and breeding Maine Coon cats for over 20 years. Brenda is an active member of the Maine Coon Breeders and Fanciers Association (MCBFA), Maine Coon Cat Club and the Garden State Cat Club. She has served in various positions in the clubs during this time.
Brenda has owned and bred several Grand Champions and Regional Winners. One of these Cabernet Sauvignon who earned Second Best Maine Coon in the Cat Fanciers Association.
These cats are part of her family and their personalities reflect that affection and socialization. Her kittens are raised "underfoot" ensuring very well-socialized cats. When company comes, they expect that you are there to visit them!
Our kittens are registered with CFA and many are shown all over the east coast.
---
© 2013 Brenda Flahault
No content may be copied or altered without express written consent